Many of the cross overs for Version 2 are Number 10. Version 1 was all number 8's and a couple of those are being re-used for certain places, but as we are trying to capture the spirit of big time main line railroading, big # turnovers seem to be called for here.
I pieced together a jig and point tool from Fast Tracks over the years for number 10. At the time, they only sold a standard jig, not a cross over jig like I have for 8s.
Remembering a bit of my process from building the #8s last time, I figured using the printed templates to help me cut rail to length would be a good idea. It would also help me get the spacing from frog to point, as having a problem there can make your component turnouts nonparallel, which is a big downer on a crossover.
Grabbed a piece of homasote off the scrap pile and marked out some centerlines. I put my spacing at 2", 2.5", 3", 3.5" and 4" as I've got places where I have crossovers at those various distances. The main line is either 2" or 2.5", but many of industrial or siding spots have a greater spacing to stress their secondary nature.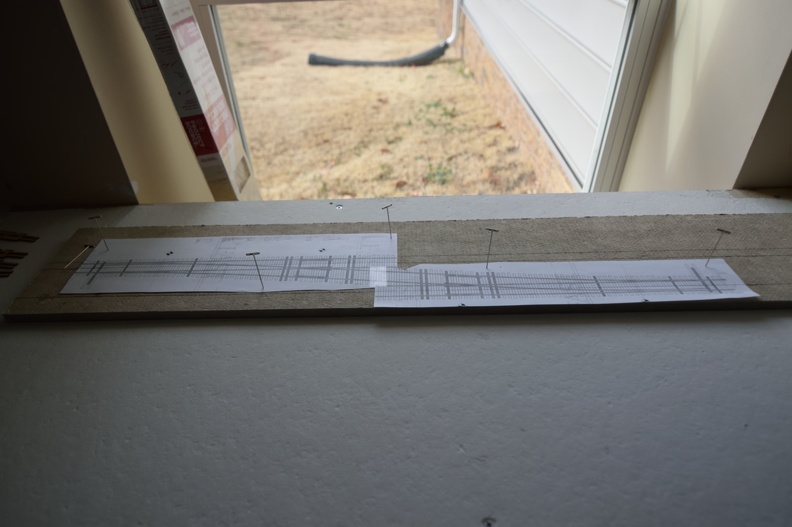 Of course, in the time it's taken me to start of this 2nd version of the railroad, Fast Tracks has made a #10 cross over jig available and made a #12 jig. Oh boy..
You can see some of the other spacings marked from this angle.
At this point, I've built 3 #10 crossovers, sold the plain jig and point tool on ebay, and have just about pulled the trigger on a cross over jig, so once I remember, expect a quick update on the finished trackwork, and the new jig, when I get it.