I think I need to expand my amount of construction labels. I'll make that a to-do for sometime in the future.
Onto the content.
The plan for version 2 as it currently sits will require 5 removable bridges to carry track across walkways.
They will only be in place during sessions, and 4 of them surround the staging area so that is only going to be a slight inconvenience to the staging and traffic manager. This same job controls inbound/outbound to staging so he can remove the lower bridge between his job location and the bathroom, so where were we again?
Oh yes, bridges.
The number one rule of
fight club
removable bridges is sealing them from humidity.
To do so, you must use oil based paints. Latex paints "breath" which will let humidity in. If there is one thing we have aplenty in Virginia, it is swings in the amount of humidity.
Note, you should ventilate VERY well when using such coatings.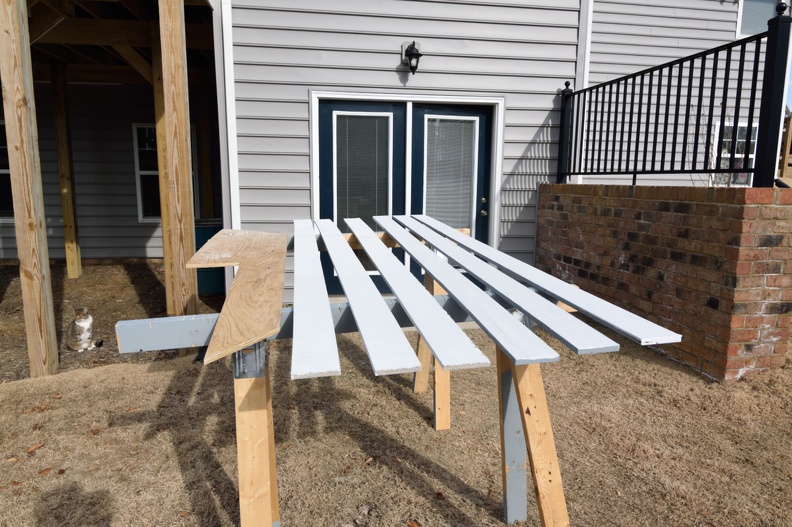 Avoid getting any on the cat, BTW. I think the smell kept him away..
They need a second coat, which did not get applied since when I went back out to do it, the skies had gone a rain soon gray so I bundled them back inside and got to stew in the fumes for a bit.
Ugh.
Anyway, hopefully later this week or Christmas week will have some sun I can use to finish this up.
Had to buy a quart of Kilz - the old oil based primer I had from version 1 got frozen or somehow else turned into this liquid plastic-ish stuff. That'll be a hazmat drop off in my future. 😒